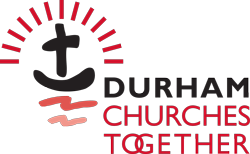 The week of Prayer for Christian Unity Week runs from 18 to 25 January. Events planned include:
Durham Churches Together Prayer Breakfast on Wednesday 20 January at 8:00am at North Road Methodist Church hosted by Deacon Annette Sharp. All are welcome and there is no charge to attend. Please do book your place by contacting Kirsty Thomas or Deacon Annette Sharp on thomas.kirsty@gmail.com

or

annette.sharp@methodist.org.uk

.

Gareth Davies-Jones, singer-songwriter, leads an "alternative Evening Service of songs and stories to entertain, challenge and inspire" on Sunday 24 January at 6:00pm at Elvet Methodist Church.